emily stone
"I want you to share your food with the hungry and bring right into your own homes those who are helpless, poor and destitute. Clothe those who are cold and don't hide from relatives who need your help."
– Isaiah 58:7
Slowly and painfully a picture is emerging of a global crime that shames us all. Billions of dollars are being made at the expense of millions of victims of human trafficking. Women and girls are being trafficked for exploitation: forced into domestic labour, prostitution or marriage.
 
How can such a trade in human beings occur in the 21st century? Because it is a low risk/ high reward crime. In many countries, either the necessary laws are not in place, or they are not properly enforced—too often traffickers are let off with a slap on the wrist, and victims are treated as criminals. Unscrupulous traffickers exploit the poverty, hope and innocence of the vulnerable. Victims become dehumanized and enslaved.  They live in fear, and many become victims of violence.
 
We all have a role to play, either in raising awareness, building partnerships, protecting victims, or bringing the criminals to justice. Emily Stone is taking action to empower our sisters and brothers whose lives are for sale.
---
PROJECT DESCRIPTION
Emily is following her heart's dream to be a missionary in Cape Town, South Africa. Called to "the least, the last, and the lost in South Africa," Emily calls her ministry LeLaLoSA. Initially going out through More than Music, Emily's work continues to be supported by MtM. Emily is currently working with a group of people to start a Job Skills Training Center in Cape town to help women and children escape the bondage of human trafficking. Emily has many visions and plans to help many more in the name of Christ.
Human trafficking is the recruitment, transfer, harboring or receipt of persons, by means of the threat or use of force and/and coercion.  It is the abduction, fraud, deception, and abuse of power, or a position of vulnerability for the purpose of exploitation.  It is any act involving the giving or receiving of payments or benefits to achieve the consent of a person for the purpose of exploitation. 2005 US State Department figures estimate that 600,000-800,000 people are trafficked annually across international borders. Approximately 80% are women and girls, of whom 50% are minors. Organized criminal syndicates and networks are responsible for the bulk of human trafficking with estimated profits from such a sick "business" averaging between US $7-10 billion annually. Weak state structures, resulting from the upheaval of transitional economies contribute to an environment favoring predatory criminal organizations that dominate through fear and intimidation. The widespread reach of these networks and perceptions of their ability to retaliate against 'victims' and their families reinforces their "power." Through heightened economic insecurity, women and children are left vulnerable and can succumb by force or "choice"  to dramatic survival strategies such as prostitution.  Historically, South Africa has been a main hub of such activity.  In recent years strides have been made to educate people about this need and criminalize this practice.  Emily is on the front lines of this endeavor. 
Connect with Emily on Facebook
Keep up to Date through Emily's Blog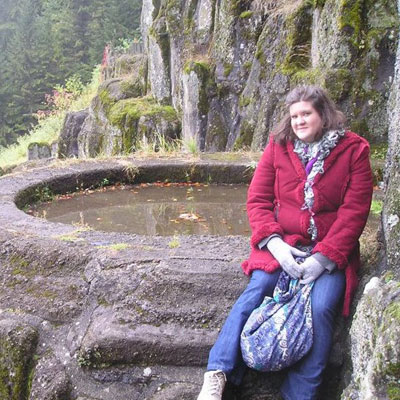 NEW BEGINNINGS CARDS
These cards and jewelry items were made by some women Lelalosa is helping  through New Beginnings. The cost of the cards are $3 each, plus S&H. The proceeds go to pay the ladies and back into the ministry. Please contact Emily if you would like to purchase some!
no images were found
BIO – IN HER OWN WORDS
My hometown is Colorado Springs, Colorado. I come from a family of 4: an older brother, me and younger brother and sister whom are twins. For 15 years, I had 4 foster siblings (various different kids). I am blessed to have parents whom are still married to each other.
I am a missionary sent by my home church, Covenant of Faith, in Colo Sprgs. They bless me in more ways than I can begin to mention. I moved to Cape Town, South Africa in July of 2010 to train on how to work with women out of prostitution and sex trafficking, as well as how to run a safe house.
I have always had a passion for the least, the last and the lost of the world. I have spent many years doing social work and working with the broken: the homeless, prisoners, foster children & at-risk-youth, addicts & abused women. Back in the States I had run numerous businesses, including a start up ministry for unaccompanied youth; helped lead a small group with women in jail; started up a support group for women with sex addictions and volunteered with various ministries.
Having overcome a difficult life myself; with many hurts, wounds and addictions of my own, I have a huge heart for women in abuse and addictions. My heart is to help women to discover their full potential in Christ and discover what it is they were truly created for. I desire to provide avenues in which they can do this.
God put Africa in my heart back in 2003, while I was just beginning to come back to the Lord. In 2004, after I was baptized and rededicated my life to Christ, the anointing of Africa washed over me. That year I had the opportunity to do a mission's trip to South Africa and Mozambique; I was never to be the same. The moment I was there I knew this was home.
For the next 6 years, God had me on an extensive training course preparing me for His work in SA. During this time God grew and healed my heart in so many ways. In July of 2009 God told me it was time to get ready to go. After a year of prep (and healing from a car accident), I finally found myself on a plane and arrived in Cape Town.
I have been beyond blessed to immediately get situated in a warm, welcoming and Christ centered church, New Life Vineyard, and to make incredible friends. I don't know what I would have done without them.
I am now working with a group of people to start up a Job Skills Training Center. We currently have a couple of projects, but would like to be able to offer even more projects to even more women.
I believe I have an absolutely blessed and exciting life! Thanks to my Father, God. Without Him none of this would be possible.